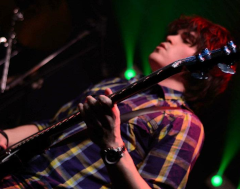 Sam is a leading music educator based in Kinross-shire, Scotland.
He teaches privately in Kinross-shire and is in his ninth year of teaching in the area.
Sam is also a busy working musician pursuing many different musical projects across the UK. One such project was with the Edinburgh based band 'Jade and the Jacks' (supporting Grammy award winner and composer Nick Welsh)
Having lived in Kinross for over 30 years (since he was a baby!), Sam actively supports local charities and initiatives in Kinross-shire. He is the director of Kinross-shire FM, Kinross-shire's local community radio project.
Sam was the head tutor of the BBC's 'Get Playing' event in Edinburgh 2016. He has also taught BBC Radio Scotland's Bryan Burnett (From the hit show 'Get It On') a Masterclass for the BBC.
Sam was the star guest on the BBC Radio 1 'Surgery with Gemma and Dr Radha' in a special episode exploring young people's pursuit of 'real' creative careers. Sam also joined Seonaid Aitken on BBC radio Scotland's 'Jazz Nights' in 2019 talking about the must see talent heading to Scotland.
​
"Absolutely fantastic enthusiasm, hugely talented..." Fiona Stalker, presenter, BBC Radio Scotland.